Roof defects, problems they cause and recommended rectification  
Roof's with defects causing leaking and how to alleviate. QBIS.
Unsuitable roof sheeting with improper securing and inadequate box gutter.
Roof sheeting has been secured through lower sections and not the ribs, this has caused consistent leaking around screws. An undersized box gutter has been fitted, causing overflowing into a living area below.
Recommended rectification of low profile roof sheets and undersize box gutter:
Replace with much deeper profile of roof sheeting with securings through ribs of sheets, not where water travels
Have a larger box gutter with reliefs to allow excess water to escape rather than overflow.
If necessary have graded roof battens fitted to achieve more fall (pitch) of the roof.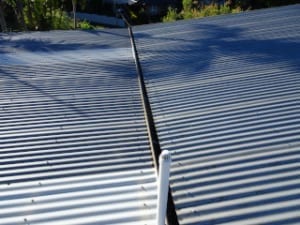 High probability of leaking where a roof has different levels with gutter between.
Remove gutter between roofs, fit flashing from underneath roof sheeting of upper roof, down and onto the lower roof. Top portion of the flashing would need to be upturned. Bottom corrugations of the lower sheets would also need to be upturned to avoid leaking in driving rain.
What you need to know about roof's with defects causing leaking.
Severe weather conditions are often cause of roof's leaking.
Majority of roof leaking can easily be avoided with proper design and consideration for extreme weather conditions.
Use correct and quality products, have them correctly installed.
Consistent leaking from a roof will cause most damage over a longer time frame.
Regular roof maintenance.
Check the following:
Build up of debris in gutters, roof tiles also around fittings and installations (solar & electric panels).
Rusting of gutters, sheeting and flashings.
Blocking of stormwater pipes and constant overflowing of gutters.
Fractures to roof tiles and lead flashings.
For safety, it is highly recommended you employ professionals to maintain and repair your roof.
What you need to know about causes of roof's leaking.
Design and type of materials can be main reasons whether a roof is going to leak or not.
Majority of roof leaking can often be easily avoided with proper design and consideration for extreme weather conditions.
Use the most suitable product for your roof design.
Dislodgment of tiles or sheeting.
What to do and avoid if your roof needs repairs.
Don't use "free" roof consultants, they will try and sell you their product.
Avoid painting any roof as it is costly and has a short life span, unless you want to improve its look.
Use individual tradespeople, preferably a qualified roof plumber.
Contact roof material suppliers for contractors they recommend.
Things to avoid to lessen chance of leaking roof's.
Box gutters.
Roof vents that spin.
Gutter guards.
Tiled roofs with inadequate pitch.
Down-pipe spreaders.
Steep roof with valleys.
Tiled roof with valleys that are not bedded.
Dome and sky-lights with narrow flashings.
Low profile roof sheeting.