Learn how accepting building inspection reports from a seller or agent can prove to be costly.
Don't become a victim by accepting building reports from an agent! QBIS. BE WARNED, ignore the following advice at YOUR PERIL or you are likely to suffer the consequences!
Just a few examples of problems omitted in a "free" vendors report, supplied by an agent!
Flooring damaged from borers was not mentioned by the combined  building-pest inspector in his reports, this flooring was in plain sight, not covered! 
Borer damage can cause serious injury to anyone that puts their foot through it, therefore it must be replaced urgently.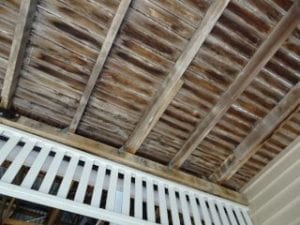 Safety hazard of this veranda structure rotting. 
How would you be if your building inspector neglected to mention this serious problem in a building report and the veranda collapsed. An extremely important  fault but relatively easy to have fixed to avoid a dangerous situation.
Both inaccurate building/pest reports, full of omissions, were handed out before auctioning of the house. Who do you think their inspectors were working for!
Never accept a building and/or pest report given to you by a real estate or seller
Be realistic, do you think an agent is going give you an unbiased accurate report that may cost them a sale!
Free reports cannot be unbiased and don't be fooled by the fact they are licensed
If you do not pay for a building or pest report how can you expect them to be legally liable to you!
Don't become a victim by accepting building reports from an agent! Some facts you need to know.
The great majority of building and pest control companies/individuals source of income is from real estate agents and their referrals.
Be aware if building or pest inspectors get recommendations from agents, who do you think they are working for and its not you!
A claim against a company or individual through their insurer does not necessarily guarantee you compensation.
Government authorities are highly unlikely to help you if the inspector omits any major costly items in their report.
Associations have no power to direct companies or individual to compensate you for any omissions in their reports.
Individuals that carry out building or pest inspections and operate under a company license without personally having the required licenses will not be covered by any insurance company if a claim is made.
Are their any benefits of free vendor reports?
Only to the agent and seller, due to their control of the report outcome, from their ongoing referrals.
Free! No IMMEDIATE cost to you, that comes later, when the problems that you have to pay for to rectify, become yours!
Convenient, not having to arrange inspections.
Disadvantages far outweigh any insignificant advantage.
Pitfalls of free vendor reports:
Biased to whoever pays them and/or recommends them
Not liable or covered by insurance to whoever has not employed them and paid their bill
You miss out on renegotiating the purchase  price on unknown major issues not mentioned in the "free report"
Your out of pocket expenses to rectify the problems, understated or not identified in the report
Having to discount your selling price when a future buyer's inspector identifies problems not found in the "free report". The buyer renegotiates the selling price, down.
Don't become a victim

by accepting a building or pest inspection report from a seller or agent!
In all the years (since 1978) of me personally carrying out INDEPENDENT inspections.
I have NEVER seen an ACCURATE INDEPENDENT REPORT that has been passed onto my client from the agent or seller.
Far too many have cost many home owners (that have UNFORTUNATELY accepted a free report) a considerable sum of money.
Faults don't go away without a cost, they will affect you, especially when reselling (judgement day) !