Roof structure components.
Examples of roof structure components. To help anyone gain a better understanding of roof construction and the correct terminology.
Courtesy of Peter Weddell, owner/operator of Qld Home Buyers Inspection Service.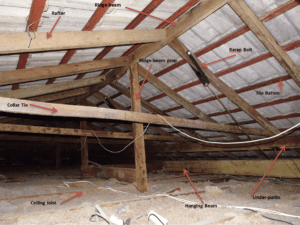 Older roof construction:
Photo of a hand cut conventional pitched roof with its components.
Problems with roof structure shown in the above photo:
The Barap Bolt brackets were not supported below off the internal wall, otherwise when tensioned fracturing of the rafter is likely to occur where it is attached.
Insulation must be clear of the electrical fittings to avoid potential fire hazards. It is advisable to fit shrouds around the fittings for added protection.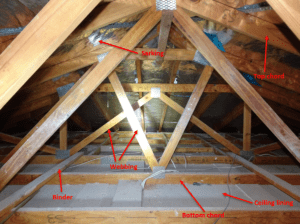 Typical roof construction:
Typical roof constructed with trusses forming the hip end of a roof.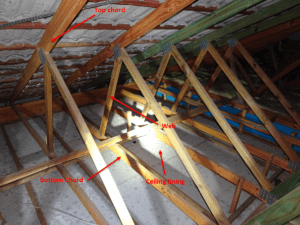 Truss:
Typical roof truss components.
Related information:
Also look at my posts, sub-floor structure components and building terminology.
For independent Building Inspections Brisbane in all suburbs, Qld Home Buyers Inspection Service. qbis.com.au