Danger to roof of an 8 year old house
Serious roof problem 8yr old house. QBIS. 
This illustration shows the location of gang-nails used in securing junctions of the roof truss components.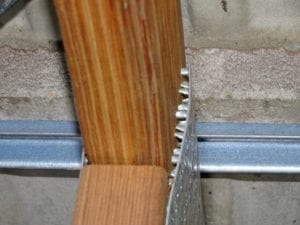 The following photos show separation of gang-nails plates in the roof of a house approximately 8 years of age.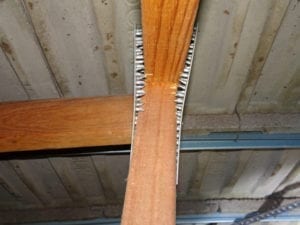 Roofs (especially ones supporting tiles) continually move up and down in differing weather conditions (wind, rain and severity).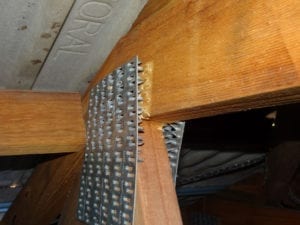 The top portion of this gang-nail has separated to a degree that it is not serving its purpose. The opposite gang-nail is only just holding the joint together.
Important points:
This much separation of the gang-nails is extremely dangerous as the roof trusses are totally reliant upon them to hold the roof together. The roof tiles would require removing to physically access the truss joints to allow for re-securing of the gang-nails.
Access for recification, limited.
Danger level, extreme.
Commonality, rare at this degree and extent.
Expense degree, high.
Disruption level, high.
Serious roof problem 8yr old house.
With the extent and degree of gang nail separation the chances of further separation was extremely high.
This can potentially allow the roof to collapse at any time without any warning.
Fortunately for the buyer this serious and potentially dangerous problem was identified by Peter Weddell.
Economical methods of effective rectification were recommended.
Recommended effective rectification:
Remove all the roof tiles.
Reinforce the separating gang nails.
Fit metal roof sheeting with larger roof battens.
Secure the roof structure for tying down (to avoid possible uplift of the roof).
If replacing the roof tiles with metal sheeting it would be advisable to fit insulation below the sheeting. Do not fit building paper on its own, otherwise condensation will occur and possible premature corrosion.
Serious roof problem, related information:
QBIS: Roof components and location
QBIS: Barap Bolt roof supports
For independent Building Inspections Brisbane in all suburbs, Qld Home Buyers Inspection Service. qbis.com.au