Why it is important to know how inadequate clearances cause dry-rot.
Learn how inadequate clearances causing dry-rot can affect the health of people living in houses also how it can be fixed.  QBIS.
Experienced building inspectors must identify dry-rot and its causes to allow for rectification and prevent other problems developing.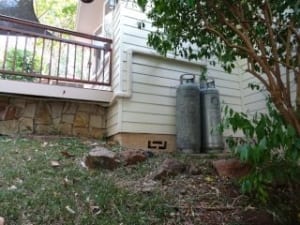 Learn how important it is to have proper ventilation and ground clearances to sub-floor areas. 
Lack of appropriate ventilation also insufficient clearances between timber and soil is causing dry rot to the under floor of this house.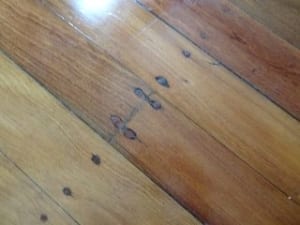 Damage to flooring from inadequate ventilation and clearance between soil below. 
Although there was no access to the sub-floor to allow for assessment of other associated problems with insufficient ventilation and clearances. Rusting of the flooring nails is usually a strong indicator of serious problems occuring, below.
This does not occur from mopping of the floor, as some sellers would want you to believe!
Inadequate clearances causing dry-rot causing serious faults.
Dry rot (destruction of sub-floor timber fibres).
High probability of attracting termites.
Possibly cause health problems with inhabitants of the house
Significant cost of replacing timber and rectification to avoid these continuing and serious problems.
Reduce selling price, possibly considerably.
Likely to affect resale when identified by a competent building inspector.
Some ways of preventing dry-rot from recurring.
Remove all timber (any remaining timber is likely to cause ongoing problems).
Create appropriate clearances between soil and timber.
Fit sufficient cross flow ventilation.
Check for seepage and rising damp.
Ensure proper drainage is fitted.
Unfortunately these major defects cannot be economically and effectively rectified without removing all of the sub-floor structure and having it rebuilt.
For independent Building Inspections Brisbane in all suburbs, Qld Home Buyers Inspection Service. qbis.com.au