Roof trusses bowing and their danger, in Forest Lake a Southern suburb of Brisbane.
Significant bowing roof trusses. The buyer was made aware and got a reduction in the buying price to be compensated for this serious and potentially dangerous problem. QBIS.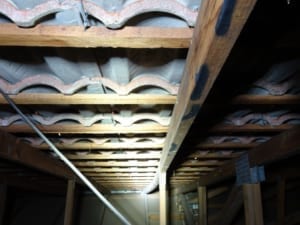 Sideways bowing of roof trusses:
Roof trusses supporting this concrete tiled roof were bowed sideways considerably, some as much as 100 mm.
This degree of bowing far exceeds the acceptable tolerance level
Potentially making the roof structure structurally unsound.
The roof structure could collapse in differing weather conditions.
Roof trusses are not designed to take sideways pressure.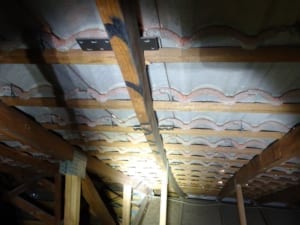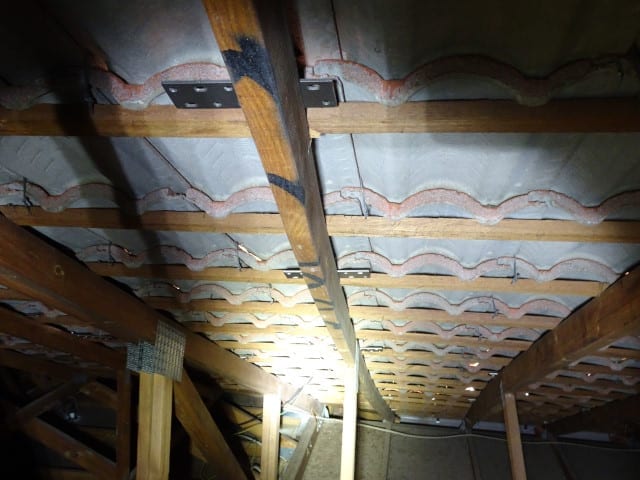 Previous inspection report omitted bowing of roof trusses:
This major fault was not identified in the previous building inspection report carried out for the current owners/sellers, this omission cost them a sale!
Recommended rectification:
Remove roof tiles.
Straighten and reinforce the roof trusses.
Remove insulation (if fitted).
Remove and replace ceiling linings where necessary.
Repaint ceilings and walls.
This would be costly and disruptive as it would not be achievable safely with the owners still occupying the house.
Alternative rectification solution to significant bowing roof trusses.
Replace roof tiles with light weight metal roof sheeting.
Fit more securing to the roof structure for tying down.
Fit larger roof battens for sheeting support.
Straighten the roof trusses (reinforce if necessary).
Resecure or replace ceiling plaster where required.
Recommend fitting insulation below the roof sheeting.
Some examples showing the importance of employing a competent independent building inspector with practical solutions to a serious fault.
Significant bowing roof truss danger, related information: