Vermin damage to electrical fittings.
Vermin damage to electrical fittings. QBIS. These photos show vermin damage from to down-lights and wiring in the roof of a relatively new house.
In most cases this potentially dangerous problem can be rectified by a qualified electrician for a reasonable outlay.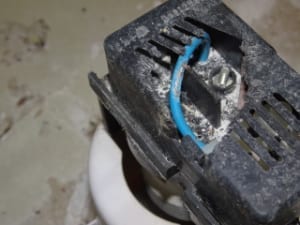 Damage from rats in a roof.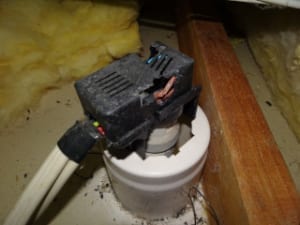 Exposed wiring caused by vermin damage.
Important points:
Vermin damage to electrical cables and fittings can be dangerous.
Immediate rectification is required by a qualified electrician.
This problem can potentially cause electrocution also fire hazards.
It is highly recommended having the roof void of your house checked periodically (where physically possible and readily accessible) for possible damage to electrical wiring and/or fittings.
Never attempt any alterations or rectification of electrical fittings, cables or installations. A licensed electrician must be employed.
It is not worth risking your life to save a few dollars!  
Related information:
Qld Government Worksafe on risk management
Turn off all power and light circuits at the switchboard, before entering the roof void!
For independent Building Inspections Brisbane in all suburbs, Qld Home Buyers Inspection Service. qbis.com.au