Unsuitable flooring for use on Veranda's.
Learn why veranda's with flooring that is unsuitable for outdoor use is a poor choice and the reasons why. Also recommendations on ensuring a greater life expectancy of your veranda. QBIS.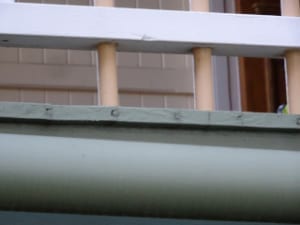 Unsuitable flooring for veranda's.
Flooring ends show tongue and groove flooring, used on this exposed veranda. This is a very bad choice of flooring for an exposed area.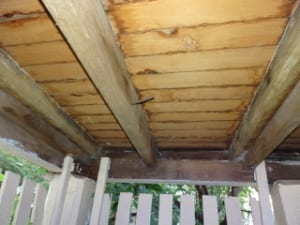 Why this type of flooring is unsuitable for exposed areas such as veranda's.
Water becomes trapped between the tongue and groove flooring .
The flooring rots more rapidly.
Rot is also likely to affect the floor joists.
Some tips when having veranda flooring and its structure replaced.
Use treated hardwood rather than softwood.
Have a rubber barrier fitted over the floor joists before attaching the flooring.
What you need to know about maintenance and safety of veranda's.
Securings must be checked, maintained or be replaced.
Stair condition and securings must be checked.
Veranda and stair supports must be checked for rust, rot and movement.
Flooring can be slippery when wet, have coated if required.
Exposed structures such as verandas, decks and railings must be periodically checked and maintained to avoid potential for collapsing!
Some material that may be helpful on decks, veranda's and safety.