Decks that are unsafe from rotting and their dangers. 
Dangers of unsafe rotting decks. QBIS.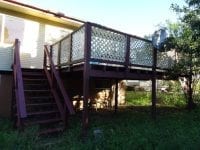 Rotting of this deck and stairs has made them unsafe, creating a potential danger!
This shows the importance of regular checks and maintenance that are needed to avoid hazards occuring to exposed timber decks rotting.
A timber platform for relaxing or entertaining guests, with chairs and table. That is exposed to the weather.
Generally a timber structure that has been built without a roof above it for protection. Refer to photo above.
Potential dangers with exposed timber decks:
Decks can collapse and cause serious injury or in cases, fatalities. Reasons for can be any of the following or combination.
Rotting of timber.
Undersize supports.
Poor construction.
Termite damage.
Rusting securings, supports, brackets, nails/bolts.
Lack of bracing.
Inadequate securings.
If in doubt, have the structure checked by a competent building inspector for advice. 
Does a deck require Council approval?
Requiring Council approval is usually dependent on the size of the deck and other factors, this may vary from different Councils.
Check with your local Council they will help advise you on their requirements.
What to consider before building a deck
Size.
Slope of the land.
Does it require Council approval?
Will it require railings for safety?
Should I construct a roof above the deck?
How close to the ground can it be built?
Can i build it at the house level?
Is it going to add value to the property?
What do you want to achieve from a deck?
Entertain large groups of people.
Somewhere to relax, read a book or have a coffee
Take advantage of a rural, city, pool or landscape view.
Aspect and size must be first considerations.
Regular checks & maintain the following:
Securings of railings and their supports.
Timber for deterioration, in particular softwood (even if it is treated).
Soil accumulation around timber or steel supports.
Stair condition and securings.
How to avoid unsafe and rotting decks from becoming a money pit.
Construct a roof above with a decent eave overhang for protection.
Fit lattice panels, shade-cloth or pull down awnings to help stop driving rain.
Use quality exterior paint.
Related links regarding unsafe and rotting decks that may help you.