Potential for water entry into a new unit from a balcony.
Learn why a unit-balcony has a drainage problem also some tips on alleviating. QBIS.
Top of concrete below the balcony railing is higher than the inside floor level of the unit interior.
Insufficient differences between level of the balcony and inside floor level
Inadequate floor drains fitted to balcony.
Undersized floor drain to balcony.
The drain is insufficient in its size to allow water to escape in driving rain. Water will become trapped within the concrete below the railing and enter the unit.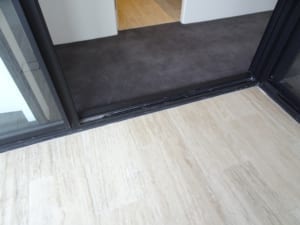 Insufficient level differences between the balcony and inside floor of unit.
If the drain becomes blocked or the drain cannot cope, level of the trapped water level will increase rapidly and enter the unit interior around the sliding door.
Unit-balcony drainage problem. How to stop water entry to unit from a balcony.
Fit:
Gaps/reliefs within concrete below railings. This will allow water to escape before entering unit.
Additional or larger drains to the balcony floor.
Awning that can be pulled down when necessary, for protection.
Increase sliding door sill height by fitting an aluminium right angle and seal.
Other problems found with new unit balconies.
Insufficient securing of railings and supports.
Drummy and/or cracked floor tiles.
Insufficient fall to floor drains.
Lack of reliefs, to allow water to escape in adverse weather conditions.
Improper water-proofing applied to slab before laying of floor tiles.
Tiles being slippery when wet requiring anti-slip coating for safety.