Roof problems that were understated in a building inspection report.
Understated roof problems. QBIS.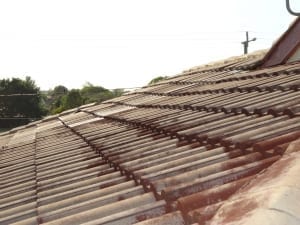 This roof of a two storey house, according to the selling agent was "passed" in a previous building inspection!
Importance of photos to bring roof problems to you
Armed with photos and a detailed report my client decided to terminate the contract on this property after being refused any negotiating to compensate them for cost of rectification.
Based on these photographs of serious problems that my client was not aware of before they contract was signed. The agent criticised the building Inspector for being too pedantic.
Would you consider the condition of this roof acceptable on a house that was listed as totally renovated with nothing to spend on it?
Understated roof problems.
My client was later made aware that it was passed by the next Inspector, without any major problems.
Who do you think that building Inspector was working for? These problems could not have been assessed from the ground or the roof interior.
Saving buyers money:
Access to the roof exterior with photos of problems are likely to help a buyers negotiating position and save them money.
Problems with a roof exterior must be identified in a building inspection report.
Allowing a potential buyer to be made fully aware, so they can make an informed decision.
Help in deciding whether it is worth the extra money to rectify, on top of the asking price.
Related roof information:
QBIS: Roof components and location
For independent Building Inspections Brisbane in all suburbs, Qld Home Buyers Inspection Service. qbis.com.au