Be aware and don't be conned into believing that termites will not damage treated timber.
Misleading fallacies of treated timber & termites. QBIS.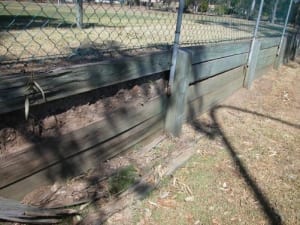 Termite damage to treated hardwood retaining wall.
A good example of what to expect. This treated hardwood retaining wall was no match against termites and has been destroyed. Termites are like any creature they need something to survive on. Although not palatable to them they had no problem eating into this treated timber wall.
Misconception of treated timber and termites:
Unfortunately too many people seem to think that termites will not damage treated timbers and cypress pine. Some pest control operators also think the same way, how misinformed they are.
Well think again and read on for examples of how wrong they are!
What you need to know about treated and/or untreated timber and termites. 
No timber is absolutely safe from termite attack, treated softwood/hardwood or Cypress Pine.
These timbers may slow them down and they may not like it as much as untreated softwood. If hungry and choices are limited, as you can see by the photos, they will destroy any timber.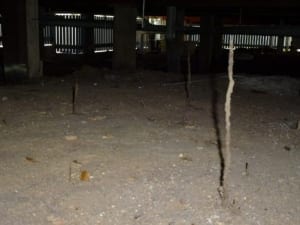 Termite mounds coming up from the ground.
Have you ever seen anything like it?
These termites are so desperate they aren't using anything as a means for access, they are building mounds from the ground up to seek timber to destroy. Unfortunately they will get to their destination if left alone without treatment.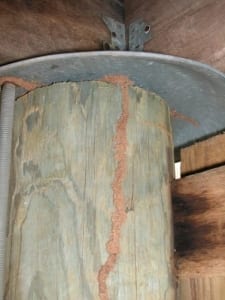 Termites and purpose of ant-cappings.
So much for treated timber, these termites are tracking outside of a treated timber stump!
The purpose of ant-cappings is not to stop termites but bring them to the surface also to allow sufficient time to allow for treatment to be carried out. Early warning with regular inspections should avoid damage beyond the ant-cappings. 
Some tips on keeping termites at bay.
Have regular inspections carried out by a qualified pest control person/firm.
Make sure there is no contact beween soil and timber without proper termite barriers.
Keep termite treatments up to date.
Avoid placement of garden beds near your house, hosing of plants may attract termites.
Preferably have paving fitted around a brick house.