Sub-floor components.
Sub-floor components. QBIS. Helping non-builders gain a better understanding of how timber framed houses are supported and structured.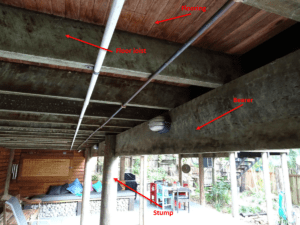 Typical sub-floor construction of a high-set timber house.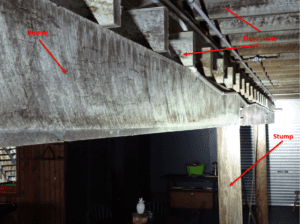 Split level:
Split level section a sub-floor structure.
The sub-floor area of this house was suitable for use as storage or workshop area only, but not suitable for use as a habitable area, such as living, rumpus or bedrooms.
Sub-floor components and their locations 
Important note: 
The majority of home buyers do not realise that Ceiling heights are not the only requirement of a sub-floor area needed to conform with Council requirements for use as habitable areas.
This is only one requirement of a number to conform with building code for habitable areas.
Related information:
For independent Building Inspections Brisbane in all suburbs, Qld Home Buyers Inspection Service. qbis.com.au