Concrete stumps fracturing,

an Eastern suburb of Brisbane,

Concrete stumps fracturing. Inspected and identified by Peter Weddell, owner/operator of Qld Home Buyers Inspection Service and Queensland Building Inspection Service, QBIS.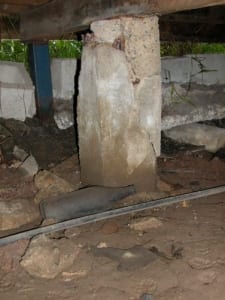 Severe fracturing of concrete stumps:
Significantly fracturing of concrete stumps due to inadequate drainage causing water entry and ponding of water to sub-floor area of this house in the Camp Hill area. Rust has also occurred to a steel column, in the background of this photo.
Practical suggestions:
A common suggestion would be to replace the concrete with steel columns.
Unless galvanised and properly installed with the concrete footings extending at least 100mm above the ground level, also the drainage problem has been addressed,  they are likely to rust very quickly.
Whether replacing again with concrete stumps is a good idea, is dependent on the type of soil also if the drainage has been addressed.
Sometimes the best choice is treated hardwood timber as salts in the soil will not cause them to deteriorate as is the case with concrete.
Although at a greater cost to have installed, timber stumps often have a far greater life span than steel or concrete and  in many cases may be the best choice (dependent upon the type of soil) if considering the long term.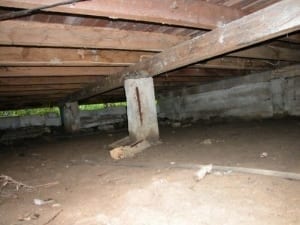 As you can see, concrete does not last forever and is not necessarily the best choice.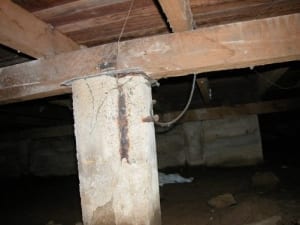 Concrete stumps fracturing
Important notes:
If considering using steel columns as an alternative, make sure they are hot dip galvanised.
The cost is marginally greater, but can prolong the life expectancy considerably.
Have the columns installed on top of the footing and not into the concrete to help avoid rust occurring.
 The concrete pad must also be at least 100 mm higher than the soil around it.
Fall must be away from the column to avoid water ponding around its base, which will cause premature rusting.
Stumps fracturing. Related information that may be helpful:
Qld Government on laws, permits and water complaints
For independent Building Inspections Brisbane in all suburbs, Qld Home Buyers Inspection Service. qbis.com.au