Stump movement and alternatives.
Alternatives to stumps that have moved also causes of movement. Packing is often fitted to tops of stumps from movement (since original construction) or incorrect fitting of the stumps. The latter is very unlikely with a house built in the particular era. Neither are good practice. QBIS.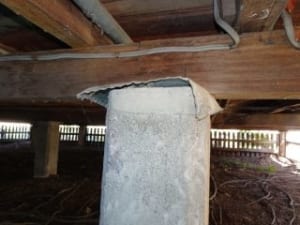 Two things worth knowing about stump movement.
If the stumps were

incorrectly

installed and packing had to be fitted to level the building during its construction, t

his would indicate very poor building practice from the outset.

If they

were packed

after the house

was built

(from movement over the years) further movement is likely and replacing them, can be costly.
Probability of further stump movement:
If stump movement has occurred in the past, for whatever the reason, the chances of further movement is far greater than it not occurring. The only way to guarantee against further movement, is to replace all the stumps, at the same time. If only replacing some stumps, the others are likely to cause major problems (and expense) when further movement occurs.
Further stump movement, items it can affect and problems it can cause.
Opening up of joints to walls, flooring and ceilings of traditional Queenslander homes.
Alterations.
Renovations.
Extensions.
Painting.
Floor tiling.
Wall and opening movement.
Uneven floor.
Connected plumbing pipes.
Buildings must be level within reason before considering alterations, extensions also renovations otherwise problems will occur with further movement.
Stump movement and alternatives:
Concrete stumps can deteriorate and fracture, if salts are present in soil.

Steel columns will rust eventually.
If using steel columns, consider galvanised rather than zinc plated or painted.
Long columns are likely to flex and cause the house to move in strong winds.
Timber stumps in some cases are often the best alternative.
If steel columns are you preference to stumps.
Have a reinforced concrete platform (footing) fitted that extends above the soil level by at least 100mm.

Secure the column to top of the platform with bolts.

Do not allow columns to extend into the concrete, this will cause them to rust and eventually fracture the footing.
Some reasons for stumps, piers and/or columns to move.
Type of soil being unstable and reactive to water content.

Land fill and soil slippage.

Drainage problems

Footings not designed to suit the soil

Timber stump deterioration with age.

Fracturing of concrete stumps.
Rusting of steel columns.
Inadequate reinforcing of piers.