Seepage through slabs to ceilings of units below.
Seepage through slab above units. QBIS.
Seepage problems:
Seepage has occurred through the balcony slab above these units to ceilings of the unit interiors below them.
Cause of the problem was lack of appropriate water-proofing of the balcony slabs before the tiles were laid over them.
Apart from being an ongoing annoyance to owners/tenants below them.
Seepage may cause spalling (concrete cancer) over the long term, if left unattended, this can be very costly.
These examples show you the importance of access by inspectors to exterior of unit complexes, even if limited.
W

orth k

nowing:
Never lose sight of the fact that although you are part of the Body Corporate, with other owners.
You are still up for a portion of the rectification costs and this can be substantial!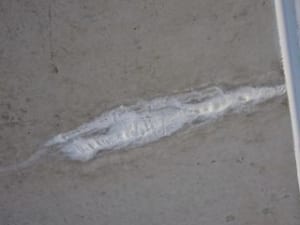 Seepage through balcony slabs above units can cause spalling (concrete cancer) which can be a very costly problem to rectify.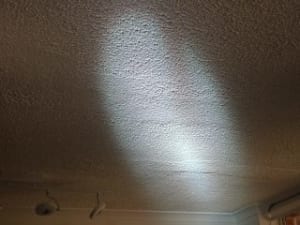 Recently patched and painted over ceiling of the unit directly below the balcony. Covering evidence of seepage.
Seepage through slab above units.

Important tips:
A recommendation was made in the report for the prospective buyer to access the Body Corporate records.
This was carried out and revealed ongoing problems with seepage through balcony slabs above units to their interiors.
Insist the building inspector or company you are employing, is thorough and prepared to check the exterior of the building.
In particular, immediate areas around the unit you are considering purchasing.
Otherwise you may be stuck with a major problem that you were not made aware of before your purchase.
The majority of inspectors only look at the unit interior and nothing else, this can potentially leave a buyer with the risk of an ongoing problem!
Information regarding seepage and waterproofing that may help.
QBCC: Preventing waterproofing defects
QBCC: Balcony waterproofing and drainage
For independent Building Inspections Brisbane in all suburbs, Qld Home Buyers Inspection Service. qbis.com.au