Damage to brick wall from salt.
Salt damage to brick wall. This can occur from the type of soil in the area. Also refer to my free information downloads regarding salt attack, for more information. QBIS.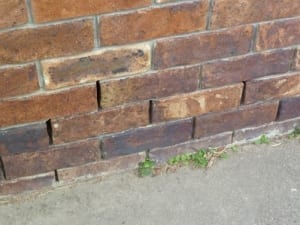 Causes of deterioration to mortar between bricks:
This problem can also occur from rising damp and salts in the soil, lack of and/or inadequate damp-course barriers, hosing of plants near the brick walls also pool water, may also cause this problem
Coloring that has been added to the mortar blend when constructing a house can also cause deterioration of mortar. Too much coloring in the mix can weaken the mortar over time.
Rectification:  
Chemical barriers: This requires drilling into the bricks and injecting a chemical barrier that penetrates the bricks.
Replacement of the damp-course barrier: This method is very costly as the bricks and mortar must be removed.  
Consult an expert that specializes in rising damp for advice on most effective method of rectification to stop further deterioration also guarantees and over what period.
Salt damage t

o bri

ck wall.

Important note:
If deterioration occurs to the bricks and/or mortar, do not attempt to repair it yourself, leave it to a qualified bricklayer to match the bricks and/or mortar. Otherwise it will stand out and may affect your resale.
Related information on salt attack to brick walls
Technical information regarding salt attack to brick walls
WA Govt fremantle: Dealing with rising damp and salt attack
For independent Building Inspections Brisbane in all suburbs, Qld Home Buyers Inspection Service. qbis.com.au