Sagging roofs in Brisbane and how to have them rectified.
Sagging roofs in Brisbane. This problem could not be seen from ground level also severity of problem could not be determined from the roof interior. Learn the importance of employing a building inspector with experience and wealth of knowledge such as Peter Weddell for your building inspections in Brisbane QBIS.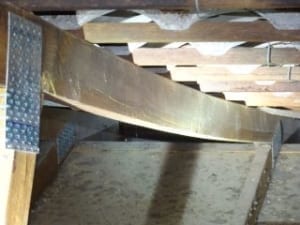 Sagging roof truss.
Here is an example of top chord of a roof truss that has a considerable sag to it, the sagging was also extensive. It would have been costly and not economically viable to reinforce the complete roof structure of this house. Replacement of the tiles with a lighter weight metal roof would be a viable option.
Economical rectification of sagging roof truss.
Replace roof tiles with much lighter metal sheeting.
Straighten and reinforce roof trusses where required
The roof structure would require more securing to avoid uplift occurring in a storm.
This method of rectification would be much more economical than having to straighten and reinforce a roof structure with tiles on it.
Benefits of replacing roof tiles with metal sheeting:
Much lighter material and would not require major restructuring of the roof.
Roof sheeting is far less likely to leak than roof tiles.
Allows opportunity of fitting blanket of building paper and insulation below roof sheets.
Also allows fitting of insulation to areas of the ceiling that may not be usually accessible.
Sagging roofs in Brisbane,

important point:
It can be very costly if your inspector is not prepared to access the roof exterior also roof interior and potentially allow you to negotiate a price that reflects this serious problem before you buy, otherwise it becomes your problem and at your expense, when you sell your house in the future.