Rusting columns from design fault
Rusting columns from design fault. QBIS.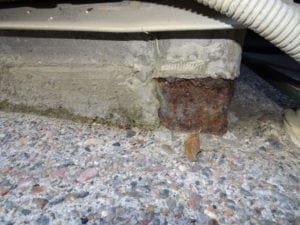 Rusting column within slab to corner of a sub-floor extension.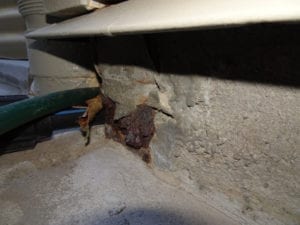 Pro

bl

ems with columns rusting from faulty design:
Rust has occurred to columns within the slab edges.
This will cause cracking of the slab as further rusting occurs.
Likely to allow potential termite access to the house.
Effective termite barriers cannot be fitted with this method of construction.
Important note:
The problem of rusted columns can easily be overcome during construction. With a little bit more thought going into the process and with minimal  additional cost. Although this is very common building practice, it should be outlawed!
Some information that may be of use
QBCC Standards & Tolerances Guide
For independent Building Inspections Brisbane in all suburbs, Qld Home Buyers Inspection Service. qbis.com.au