Rusted roofs and the importance of regular checking.
Rusted roofs around Brisbane, problems they can cause, tips on how to maintain your roof and what to look for. These photos show how important it is to employ someone trusted to check the roof exterior. QBIS.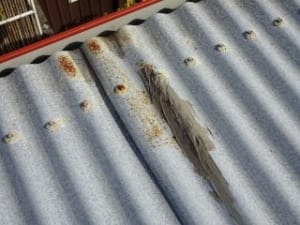 Long term problems rusted roof sheeting and inadequate securing cause.
Consistent leaking through rusted roof sheeting causes rotting of concealed timber and damage to ceiling linings.
Inadequate securing of roof sheeting and flashings can allow them to lift in a storm and potentially cause damage or injury.
This is why it is necessary to have your roof checked and maintained.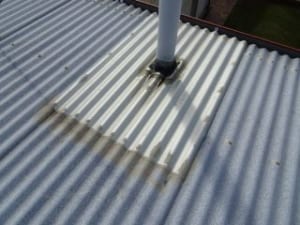 Incompatible roof sheeting that will cause premature rusting.
Zincalume and galvanised roof sheeting must not be used together, reaction between the different materials will cause corrosion, often over a short time frame. When replacing sheeting or flashings the same product must be used. Aluminium and lead flashings may also react with some materials.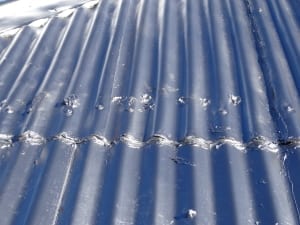 Rusted roofs and cover-up to achieve a sale.
This roof was rusted beyond repair and required replacing. The owner painted and patched the roof so from ground level, it looked new. This shows the importance of building inspectors gaining access to roof exterior.
An example of what some unscrupulous sellers are willing to do for a sale!
Worth knowing about this rusted roof.
The buyer was misled into believing the roof was new.
Armed with a report with photos of the rusted roof.
The buyer proceeded with the purchase at a reduced price.
This is why it is preferable to have your inspections carried out before signing a contract and agreeing upon the purchase price.
Tools needed to maintain your roof.
Sturdy ladder.
Powerful torch.
Drill with screw attachment.
Hose and attachment for gutter cleaning
What to check on a roof.
Securing of roof sheeting, tiles or flashings.
Broken tiles.
Sagging of ceilings.
Accumulation of leaves and branches.
It is preferable to check within the roof when it is raining to determine source of leaking.
Things to do to ensure long life of your roof.
Trim tree branches from near the roof.
Check stormwater system for blocking.
Look for consistent overflowing of roof gutters, especially to back sides.
Keep roof and gutters clear.
Seal flashings if cracked.
Secure sheeting and flashings, where necessary.
Do not fit gutter guards, they cause premature rusting.
Areas of a roof to watch, for leaking.
Valleys.
Roof vents.
Gutters.
Vent pipes.
Flashings.
Skylights & domelights.
Split level sections.
Dormer windows.
Parapets.
Downpipe spreaders.
Box gutters.
Sides of roof tiles, especially where clips are fitted.
These are most common water entry points.
Safework Australia: Roofs and safety
Qld Gov: Roof technical information