Weatherboards rotting from being untreated.
Rotting of untreated weatherboards. Although these photos of a newly renovated house were taken in 2005,  I thought it would be important to make home buyers or owners aware of the importance of using treated timber as a more suitable exterior cladding. QBIS.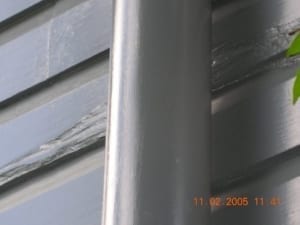 Rotting of untreated softwood weatherboards.
The rot was significant and extensive to external walls of a house in Yeronga, rectification would be costly. No amount of repainting will save these rotting weatherboards. Removing and replacing is the only long term option.
Procedure for replacing rotting weatherboards:
Set up scaffolding.
Remove and replace any rotting boards
If necessary: Replace any rotten concealed wall framing.
Repaint the house exterior.
Tip: Replace boards with more suitable product for external use, such as treated timber, preferably hardwood.