Leak from bathroom causing rotting floor. 
Learn how a rotting floor from leaking can affect a home owner with long term recommendations on fixing. QBIS.
Process of fixing rotting floor.
Unfortunately the areas would have to be stripped completely to enable replacement of damaged flooring.
Some walls may also be rotten where covered with linings. This would have to be assessed and replaced when all items have been removed.
I would highly recommend replacing the particleboard flooring with compressed fibro sheeting.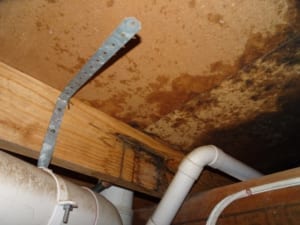 Rot to sub-floor structure and expense of fixing.
Leak from toilet is rotting floor also starting to cause damage to a floor joist. This can come more expensive when renovating. It is much cheaper to replace damaged flooring than the floor structure.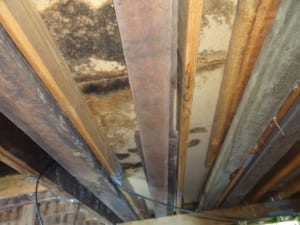 Wall damage from leaking bathroom.
Rot has extended to some internal walls that would require the replacement of rotten timber beyond the wet areas. This is increases the cost of renovation when it starts causing damage beyond the scource of leaking.