Retaining wall movement, identified in a recent building inspection carried out in the Arana Hills area, a Northern suburb of Brisbane, by Peter Weddell, owner/operator of Qld Home Buyers Inspection Service.
These retaining walls have moved and would need a large amount of money to remove and replace. Due to limited access with machinery. Therefore replacing them would be labour intensive and costly.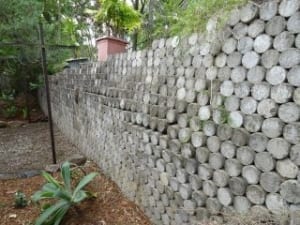 You can see in this photo a large gap caused by the soil pushing against the loose tubes of concrete. Concrete tubes are not designed for retaining large volumes of soil.
Loose block walls are suitable for retaining small volumes of soil only, less than 1 metre in height. They are not suitable for retaining large volumes of soil.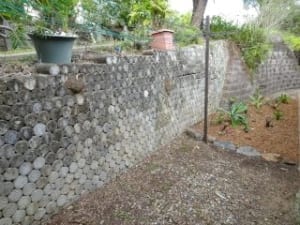 Another example of retaining wall movement with loose concrete tubes used in construction.
To avoid retaining wall movement. Walls over 1 metre in height must be engineer designed and reinforced. Concrete filled and have drains fitted to the lower section (to help relieve water pressure build up). Council approval and soil tests are also required.
Walls where retaining of less than 1 metre must be well designed and constructed. To avoid wall and soil movement, but not constructed to the standard of a greater height wall.
Retaining walls can
be built
 using different materials such as. Rock (small and large), timber sleepers, concrete blocks, bricks, formed concrete. The life expectancy is dependent on the type of material used. In some cases. Differing weather conditions, type of soil also method of construction may cause movement.
A common concern of most people. Is the affect that retaining wall movement may have on the house. If the wall has constructed below the lower side of the house on a property with a significant slope.
The answer would be, no affect.
If the house has
been built
 and supported by its own independent footings.
Qld Home Buyers Inspection Service, for your Building Inspections Brisbane, all suburbs