Stumps leaning from retaining wall movement.
Pressure from retaining wall and stump movement. QBIS.
This serious problem was also causing the house to move. Access to replace the retaining wall and stumps was not possible to achieve using machinary because of limited access and no boundary clearance because of the building age.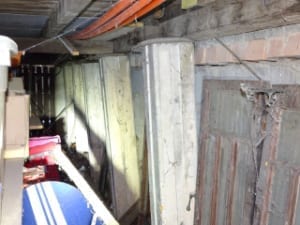 Considerable movement of retaining wall causing stumps to lean:
Movement of this sub-floor retaining wall (at street level) was causing the stumps and house to move sideways.
Rectification and replacement cost would be high.
Access to the sub-floor, retaining wall and stumps was very limited.
This would require removing a substantial section of the house front to allow machinery access.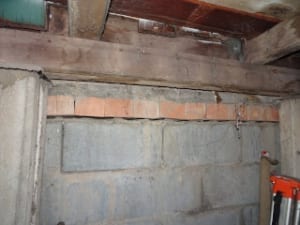 Incorrectly constructed retaining wall placing sideways pressure on stumps supporting a house.
Horizontal gap to top section of this retaining wall showing degree of wall movement. The retaining wall and stumps need to be replaced at a considerable cost.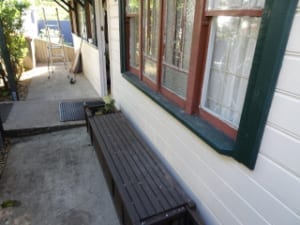 Retaining wall that needed replacing was located on the front boundary, at street level with no easy access!
Movement of the retaining wall and stumps were not identified in a previous building inspection report for the owner/seller.
This shows the importance of employing an experienced and thorough building inspector such as Peter Weddell, owner/operator of QBIS.
What you should know about the sellers building inspection report and its omissions!
Seller's building inspection report proved to be costly for them when it came time to sell from its omissions.
Selling price (according to buyer) did not allow for replacement of retaining wall and stumps.
Cost of rectification would add considerable sum to purchase price of the house.