Faults with a queenslander style of house.
Extensive and significant faults identified in a Queenslander style house in Ipswich. QBIS.
Inspection of a property in the Ipswich area for an interstate buyer that had not seen the property apart from photos posted on the internet.
Fortunately the client had the common sense not to accept a favourable building inspection report given to them by the selling agent.
The following images speak for themselves. This shows the value of photos, especially for interstate and overseas buyers.
Image above. Packing above a concrete stump that has moved considerably is only a temporary fix, it will move further. Stumps that have moved to this degree must be replaced ASAP to avoid other problems developing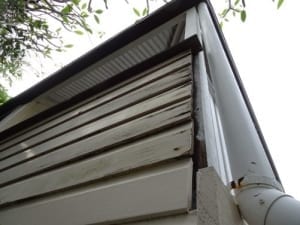 Rotting Chamfer-boards.
Extensive rusting of roof sheeting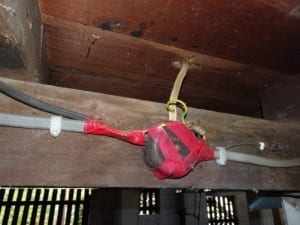 Potentially dangerous electrical wiring connection.
Related information:
Qld Government Worksafe code of practice and risk management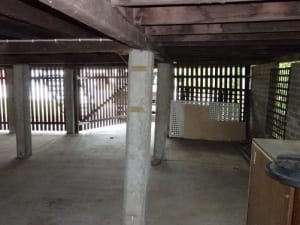 Significant leaning of stumps (also refer to next photo).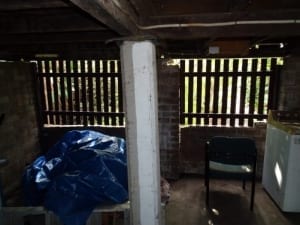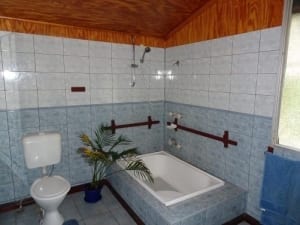 Installation of bath not suitable for shower use above it causing rotting to timber below from leaking (also refer to next photo).
Wall tiles must extend into the lip of the bath if having a shower above it. Otherwise seepage and rot will occur.
The bath requires removing and reinstalling properly to avoid further damage to floor, walls and framing.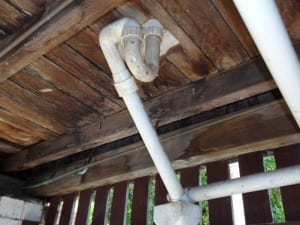 Unprofessionally fitted plumbing and leaking from shower-bath causing rot to parts of the sub-floor.
Although not significant rot to accessible areas at time of the inspection.
Immediate attention would be required to avoid further leaking and rot.
This would increase the cost of repairs.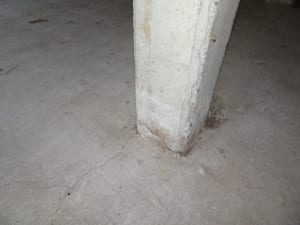 Water mark to stump showing flood level on the property.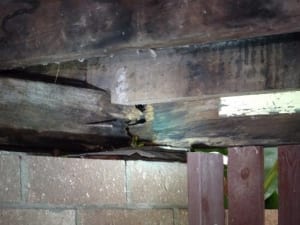 Rotting bearers, supporting a veranda.
My detailed report saved a prospective intersate buyer from making a big mistake on a property.
The buyer was unaware it flooded, had extensive movement and other major issues.
Queenslander style house faults.
Related information that may assist you.
Qld Government on planning and building
Qld Government. Do I need approvals to build a deck
QBCC Contractors forms and fact sheets
For independent Building Inspections Brisbane in all suburbs, Qld Home Buyers Inspection Service. qbis.com.au