Queenslander house components and their locations.
Illustration of a Queenslander house and its components. To help you gain a better understanding of how they were constructed. QBIS.
This method of house construction was unique to Queensland and parts of New South Wales, built in the late 1800's and early 1900's. Although simple in its form it was most practically suited to the climate. Most were constructed with readily available timber from their location.
With the earlier wall frame construction (as illustrated) the vertical wall studs were not supported by a bottom plate (later framing) but instead extended down to the bearers supported by the stumps (piers).
Notice also that the rafters did not have a birds-mouth (notch over the top external wall plate) instead they often extended beyond the external walls and were cantilevered on top of the ceiling joist ends also the soldier joists.
This sometimes caused the ceiling joists (shorter soldier joists) to lift due to undue pressure forcing them upwards because of the roof load also with no support of the roof below the ridge-beam.
Queenslanders were built on tall, large diameter timber stumps which allowed for very good airflow to the sub-floor this helped keep the house relatively cool, during summer seasons.
The height off the ground also helped in areas that were prone to consistent flooding, unfortunately not all. Bracing was required diagonally across the stumps to help stabilize the structure, depending on their height.
Vertical slats were often fitted to horizontal framing as an infill, also sometimes to enclose and make use of the sub-floor area as a laundry, storage and/or workshop.
Practical design to suit Queensland climate:
Unlike most houses built in the Southern states with bricks and roof tiles, the external walls were clad with horizontal timber weather-boards (sometimes vertical boards with the wall framing exposed, around the late 1800's) and the roof with corrugated iron sheeting.
Timber and corrugated iron sheeting at the time was readily available (with timber often sourced from onsite trees) easily transportable and relatively cheap.
Unlike bricks and roof tiles, timber and iron sheeting do not retain heat, therefore were much more suitable for the harsh climate of Queensland as they have a greater tendency to cool down.
The vertical internal V jointed boards (commonly known as VJ boards) were horizontally secured to the top wall plate and at the bottom, to the floor joists.
This helped greatly in securing the structure.
Houses built in the late 1800's often used wide horizontal and/or vertical timber linings to cover the wall and ceiling framing.
Basic construction: 
Although these structures had very little framing and securing for tying down (compared to modern day methods of construction)  it is amazing that a great number of traditional style Queenslander houses survived Cyclonic conditions, over many years. Mostly due to luck, rather than their methods of construction.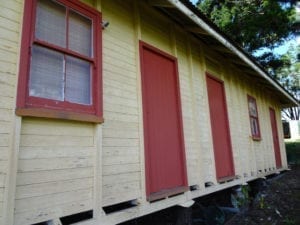 Exposed frame with timber cladding attached to the inside.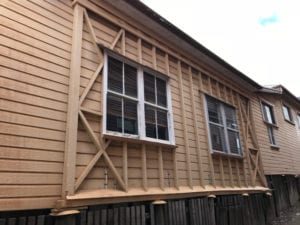 Examples of early exposed wall frame construction. 
Queenslander house components, Related information

:
Link: Queenslander (architecture)
For independent Building Inspections Brisbane in all suburbs, Qld Home Buyers Inspection Service. qbis.com.au