Common termite entry points to sub-floor of houses.
Some examples of potential termite entry points. QBIS.
This was a large exposed deck and house without termite barriers, also insufficient clearances between the soil and timber.
Because of limited access to work under, a substantial amount of money would be required to prevent termites from gaining access to these timber structures.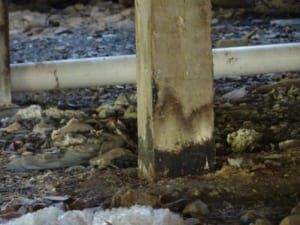 Stump supporting a house without a termite barrier and bracket to its base.
This timber stump was in the soil without a steel bracket to achieve clearance. Its base is rotting from contact with the soil also from pooling of water.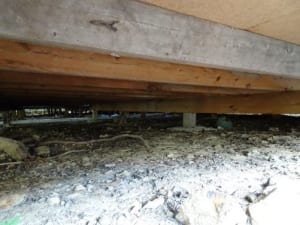 Insufficient clearances between bearers and soil of sub-floor area.
The bearers must have at least 400 mm clearance between them and the soil, to comply with Building code requirements. This would be  impossible to fix without removing the floor to allow access.  It would also have to done without machinery, this would increase the cost considerably.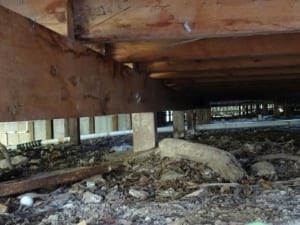 Combination of stumps without termite barriers and bearer with less than 400mm below it.
This situation is begging for problems with rotting of timber stumps and direct access for termites to cause damage to the sub-floor and potentially interior of this house. This is a horror that no home owner would want to happen.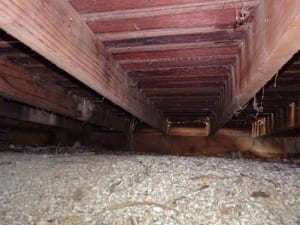 Major problems that will occur with sub-floor bearer sitting directly on soil.
Timber will rot rapidly.
Will allow termite access.
Cause termite damage  to floor and wall structures.
Considerable expense to fix.
This bearer is an open invitation for termite entry!
How to help avoid serious termite damage to a timber house.
All timber must have required clearances between soil.
Bearers must have at least 400mm between underside and soil to comply with building code requirements.
Termite barriers required.
Sub-floor areas must have required access to allow access and detection of termites.
Cross flow ventilation required to sub-floor areas.