Overloaded stormwater system.
Overloaded stormwater system.  QBIS. The following photos show too many down-pipes from the roof gutters connected to one storm-water pipe. This most commonly occurs when fall of the land is down from the street towards rear of the property.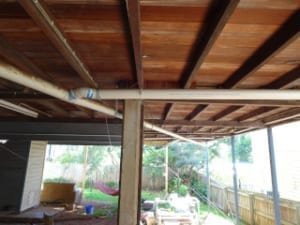 The only effective ways to help eliminate this problem is to fit additional storm-water pipes. Alternatively, run them through the lower neighboring property and to lower level of the next street.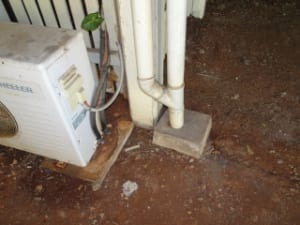 Overloaded stormwater system
Important points:
An overloaded storm water system can (in most cases) be easily avoided by fitting more also larger storm- pipes and (where possible) direct them to the street.
In some circumstances it may be worth contacting your lower side neighbour for permission to run the storm-water pipes through their property and to the street on their lower side. This can be beneficial to the neighbour by diverting run-off water to where it won't cause problems.
It's worth contacting your local Council if you have any doubts about you responsibility regarding stormwater systems.
Although not very affective and not recommended. A rubble pit may be required by your local Council.
Some information that may be of use
Qld Government Complaints/stormwater/runoff/drainage
For independent Building Inspections Brisbane in all suburbs, Qld Home Buyers Inspection Service. qbis.com.au