Non-disclosure of termite damage.
How non-disclosure of termite damage can affect a the sale of a house and how to potentially help achieve a sale. QBIS. 
Also learn why it is so important for sellers and agents being upfront with prospective buyers regarding major problems. In the majority of cases this is likely to help a sale proceed.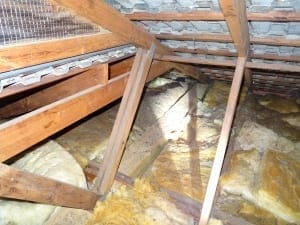 Non-disclosure of termite damage in a roof.
Termite damage to roof structure of a house on the Gold Coast that the seller and agent were aware of. If this was disclosed to the potential buyer before allowing them to sign the contract, the seller may have increased their chances of a sale rather than watch the sale fall through. 
Worth knowing about this particular case of non-disclosure: 
The prospective buyer had asked the agent and seller if they had knowledge of any previous termite evidence, answer was NO!
The owner and agent knew about extensive termite damage to this house, yet neither informed the buyer before they signed the contract.
Because of non-disclosure, the contract did not proceed.
Non-disclosure of termite damage.
If the seller and agent had been upfront with this particular buyer by telling them, I am almost certain the buyer would have proceeded with the purchase even after the inspection results were known, as they both had fallen in love with the house and location which met with all their requirements.
How disclosure may help a property sale proceeding.
Agents and sellers should not rely upon hope that inspectors may miss major faults.
When selling your property, disclose major faults you're aware of, before allowing buyers to sign a contract.
Or wait until your house sale falls through on numerous occasions, not a smart idea!
No one appreciates unpleasant surprises!