Non

-Cou

ncil approved structure.
Non-Council approved structure. QBIS. There have been too many Illegal structures have been built in Queensland, this does not make it acceptable.
If ignored it can affect your resale also your insurer may not cover you for damage that may be caused if the structure is affected in a severe storm and causes damage to other property.
In some cases the structure can be easily modified to make it comply with council requirements, so approvals can be obtained.
In other cases it may not be economically viable to alter the structure to meet with building code compliance and the structure may have to be removed.
It can be expensive to obtain approvals as it entails having plans drawn, submitting them to Council, inspections carried out by a private certifier, and if necessary modification by a trades-person to bring up to Council requirements.
This can be time-consuming, costly, and unexpected if not allowing for additional costs in the purchase price of the building.
Unfortunately with time restraints placed in the selling contract that normally does not allow for the time that would be required to obtain approvals.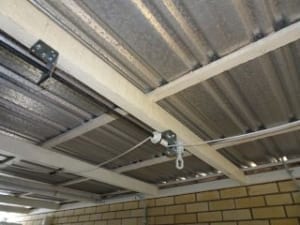 Undersized rafters and roof battens, no bracing to the roof structure also insufficient securing, posts are supported and insufficiently secured to a brick retaining wall, that has moved.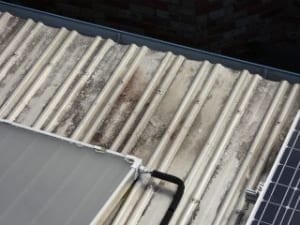 Badly damaged low profile Aluminium roof sheeting with a Solar panel that would have to be removed and refitted when replacing the roof sheeting.
Non-Council approved structure. 
Important points:
In most cases an illegal structure can be reasonably easily rectified without needing to remove them. It is very important to have them rectified as soon as possible.
A prospective buyer should consider the cost of obtaining approvals, modification, removal and replacement cost of illegal structures, so it does not affect them when they decide to sell the property in the future.
It would also be strongly advised the prospective buyer informs their insurer to see whether they are covered in case of unforeseen damage the structure may cause to neighbouring properties, in the event of a severe storm
Related material
Brisbane City Council on planning and building/do I need approval
For independent Building Inspections Brisbane in all suburbs, Qld Home Buyers Inspection Service. qbis.com.au