Design faults with new Unit construction.
New Unit construction design faults. QBIS.
New unit, that has never been occupied.
Problems:
No flashing or awning above window will allow seepage and rot to occur.
Architraves around window without proper flashing for protection will rot.
This is a very common problem, but poor building practice, in new buildings.
The following photos show the importance of your inspector accessing common property around a unit complex (where possible, without entering private property). Also the importance of photos to avoid arguments from others that may have a vested interest in the sale.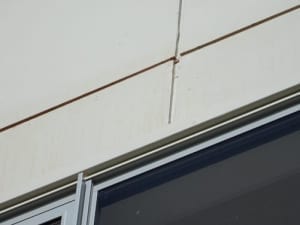 Close-up of previous photo showing gap between external wall cladding which will allow seepage, also an architrave with no flashing above it.
Close-up of gap between external wall cladding showing untreated exposed softwood wall frame that will rot.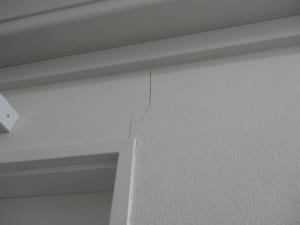 Movement problem:
Crack to external brick wall of a recently built unit in Coorparoo, that has never been occupied. With a new building, what do you think of the possibility of further movement occurring? Far greater than it not, is it worth the risk?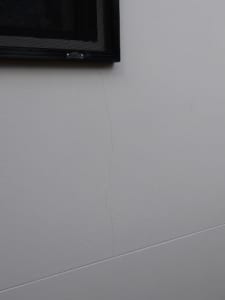 Another crack to external wall of the same building.
New Unit construction design faults.

 Important no

tes

:
Although some cracks can be attributed to brick growth, slab movement also different rates of expansion and contraction between different materials.
No one can determine with 100% degree of accuracy the exact cause of the movement.
Movement to a new building as opposed to an older building (that has stood the test of time) could prove to be a risky decision.
For independent Building Inspections Brisbane in all suburbs, Qld Home Buyers Inspection Service. qbis.com.au