Movement of new stumps.
Movement of new stumps. Although the timber stumps were relatively recently fitted to support this traditional Queenslander house. The floor of two levels was sloping in different directions either from movement or poor fitting of the stumps. QBIS.
As you can see these stumps are relatively new.
The floor structure they are supporting should not be noticeably sloping in any direction, if they have been properly installed.
Understandably it is impossible to achieve a perfectly level floor when leveling a floor before having the stumps replaced.
Any sloping should not be noticeably to a lay person, unless it is more than what would normally be considered acceptable.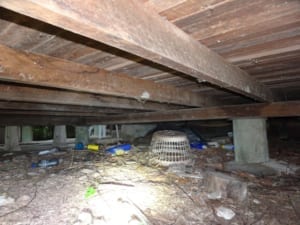 Movement of improperly fitted stumps to a lower level causing uneven floor.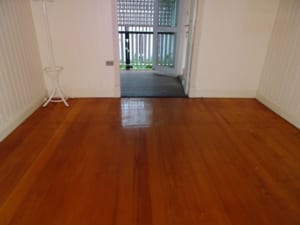 This photo shows the upper level floor to be sloping to left and right of the middle.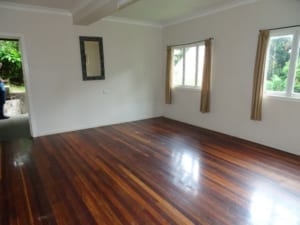 This photo shows the lower level floor sloping towards the wall and in other directions.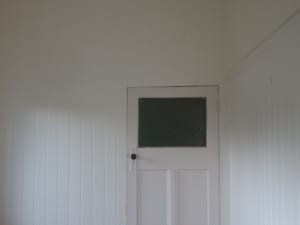 This upper level opening is leaning. This degree of movement should not be evident if the leveling and stump replacement had been carried out correctly.
It is impossible to determine if sloping of the floor has been caused by movement of the new stumps of if they were improperly fitted out of level.
Either way this can be detrimental to any proposed renovations, alterations also painting to the house.
The sloping and doubt over the exact causes could potentially affect resale, if a prospective buyer notices the sloping, especially if further movement occurs.
Movement of new stumps.

Important notes:
Never lose sight of the fact that the most important thing before carrying out any proposed extensions, renovations, alterations also painting.
The foundations must be sound and the house must be reasonably level, not noticeably out of level.
If it is, you could be up for considerable rectification costs.
QBCC: Guide to Preventing Structural Damage to your home
Minimising foundation movement and damage
For independent Building Inspections Brisbane in all suburbs, Qld Home Buyers Inspection Service. qbis.com.au