Window within shower leaking from poor location and size.
Leaking around window in shower. QBIS.
With some thought this problem would have been avoided during renovations.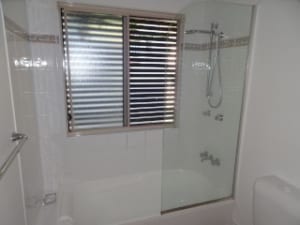 Potential for leaking around window.
Seepage is very likely to occur around this window situated within a shower outlet of a newly built home, regardless of how well sealed the window is.
Sealant does not stop leaking for very long.
Different materials and products expand and contract at different rates, this can break the sealant and allow seepage and cause possibly rot to the wall, framing, flooring and floor structure below.