Learn how impractical house design trends can cause short and long term problems
Impractical house design trends to relatively new house causing problems early in its life. QBIS.
Unfortunately too many designers and builders put design before practical construction.
Hopefully this post will open your eyes to some problems I have encountered from poor design, over many years of inspections.
Example of a impractical design trend causing expensive faults
Seepage is occuring through timber mouldings fitted around exterior of windows causing rotting of wall framing at two levels of the house also to parts of the flooring and the sub-floor structure. This is a very common fault with current design trends causing rot. This DUMB idea should be outlawed!

Reasons for this impractical method causing rotting of walls.
No flashing or awning fitted above top architrave
Timber mouldings will rot and allow seepage.
Flashing must be exposed and extend out and over the sill for protection.
Horizontal timber to walls will also rot.
Aluminium windows are designed for external wall cladding to fit within the top and side flanges.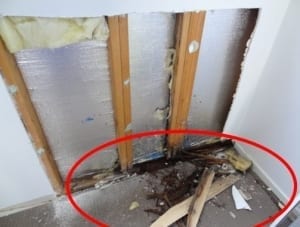 Results of damage to wall framing from impractical design.
Significant damage to lower wall framing below window caused by seepage around external window mouldings. With damage to wall and sub-floor below, there is a high probabilty of damage to concealed timber. This would be costly to rectify and could have easily been avoided with some thought when designing and constructing.
Rectification of rotting wall required.
Scaffolding required.
Remove external wall linings around affected areas to assess extent of rotted timber and damaged linings.
Replace any damaged linings and timber  wall and floor framing.
Fit correct flashings around openings.
Do not fit mouldings around any openings.
Repaint.
I would also recommend fitting awnings above the openings for protection.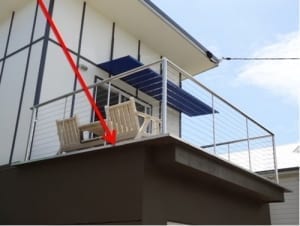 Poor construction and design fault allowing rot to parts of balcony.
Seepage through exposed balcony is causing damage to ceiling also rot to floor and wall framing.
Recommended rectification
Apply water-proof membrane.
Construct a roof above for protection.
Fit pull down awnings for more protection.
Roof and awnings will allow balcony to be used more often, whether raining or sunny.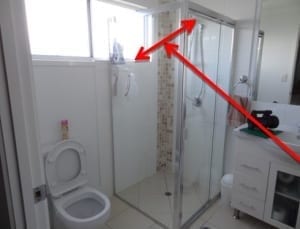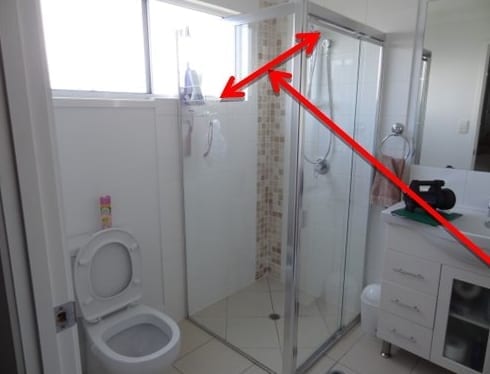 Design fault of window within shower recess. 
Window within the ensuite shower without appropriate protection.

The shower outlet must be below sill of window or window should have been fitted higher.
Seepage is likely to occur and cause rot to walls, flooring, framing also to the ceiling below.
Recommended rectification.
Seal around window.
Fit adjustable screen as protection over window.