Impractical house design trends
Impractical house design trends to a relatively new house causing problems early in its life. QBIS.
Seepage around timber window surrounds to exterior of this house is causing rotting of wall framing.
This is also causing rot to parts of the flooring also the sub-floor structure.
Reasons for poor design causing rotting walls:
Aluminium windows are designed for the external wall cladding to fit within the top and side flanges.
Timber architraves are not suitable for external use around windows without appropriate flashing fitted around them.
Sills of the windows must have slope away from the window with flashing extending over the sill.
The sill flashing must be exposed and extend out and over the sill for protection.
These a just a few examples of many I have seen from this very common current building construction design fault.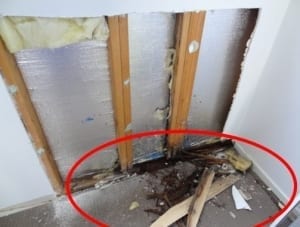 Rot has occured to the timber wall framing from seepage around the architraves that have been fitted to exterior of the aluminium windows.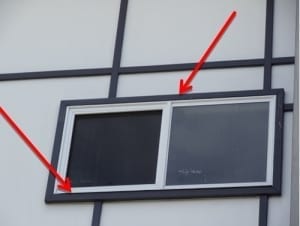 Rectification required:
Quotes.
Scaffolding.
Remove external wall linings around affected areas to assess extent of rotted timber and damaged linings.
Replace any damaged linings and timber framing.
Repaint.
Being a two storey house, this would be a considerable expense.
Recommendation:
Fit awnings with appropriate flashing's fitted around the openings, after rectification has been carried out.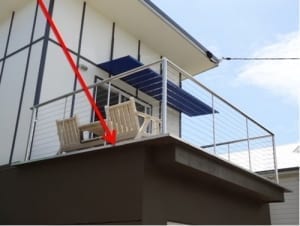 Deck design fault:
Seepage through this exposed balcony is causing sagging and deterioration to ceiling lining of the garage below. The floor and wall framing are starting to rot.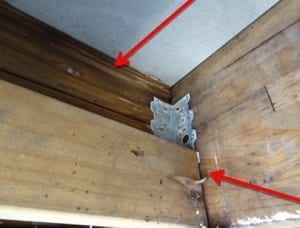 More seepage causing deterioration of timber.
Related material on deck and balcony safety:
Qld Government Deck, balcony and window safety guidelines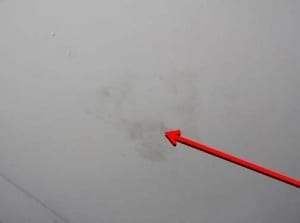 Seepage causing water damage to ceiling below the exposed deck.
Recommendation:
Construct a roof above the balcony with a decent eave overhang for protection.
Also recommend fitting insulation below the roof sheeting or use composite material.
This will allow the deck to be used more often, whether raining or in summer conditions.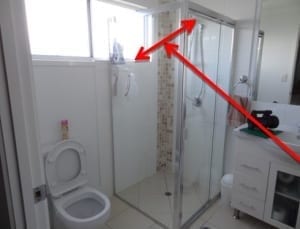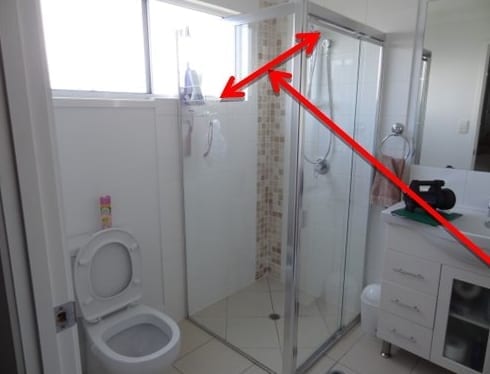 Design fault:
Window within the ensuite shower without appropriate protection.

The shower outlet must be below the window or the window should have been smaller or fitted higher.
Seepage is likely to occur to the walls, flooring, framing also to the ceiling below.
Impractical house design trends.
Important note:
When are designers and builders going to realise these current methods of construction are not practical and cause serious problems, soon after the builders warranty has expired!
For independent Building Inspections Brisbane in all suburbs, Qld Home Buyers Inspection Service. qbis.com.au