Illegal building structures around Brisbane, 
Illegal building structures, QBIS.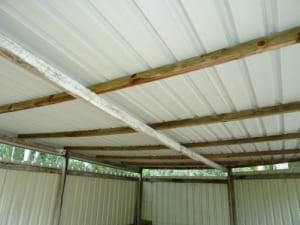 This roof structure is sagging considerably due to undersized members also their spans being too wide.
Apart from this serious problem it is also not properly secured for tying down. This may allow the structure to be blown away in a storm that could potentially cause injury to people also damage to any neighboring properties.
Make sure your insurer is aware and will cover you, before anything serious and costly happens!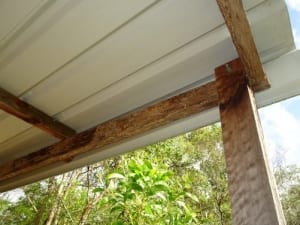 Illegal building structures. Important notes:
Be aware that your insurance company may not cover you against problems caused with illegal structures.
Be upfront, disclose Council search and inspection report results with your insurer.
Check with your insurer if they are willing to cover you for the property and structures, before committing yourself to a binding contract.
Contact your legal representative regarding clauses that they may recommend inserting in your contract, to protect you.
Never sign a contract without first consulting your independent legal representative for expert advice!
If in doubt, consult your legal representative also a licenced contractor for expert advice.
For independent Building Inspections Brisbane in all suburbs, Qld Home Buyers Inspection Service. qbis.com.au