Conversions of garages to living areas and their associated problems
Garage conversions & associated problems. Courtesy of Peter Weddell, owner/operator of Qld Home Buyers Inspection Service.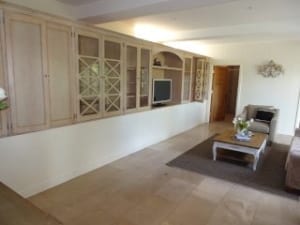 Non-compliant:
Ceiling height of this previous garage converted to a living area was well under the requirement of 2.4 metres as required by Council.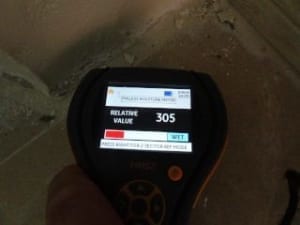 Moisture meter re

ad

ings:
Showing red and wet indicators with reading of 305.
Normal readings should be around 80 showing green and dry indicators.
The slab being originally built for a garage is highly unlikely to have a plastic membrane below it.
Rising damp can cause health respiratory problems with inhabitants of garage conversions.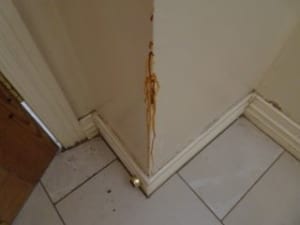 Garage conversions & associated problems. Important notes:
All lower floor areas of this large western suburb house had been converted from a garage-storage to habitable areas that were non-compliant.
Water has seeped through the walls, rising damp has occurred from the slab, ceiling heights are too low for use as habitable areas.
The house was advertised by the agent as being a legal living to all of the lower level and according to the prospective buyer, priced accordingly "high".
A purpose built two storey house is constructed taking into consideration drainage, seepage, rising damp and required ceiling height (for use as habitable areas).
Conversion of a garage-subfloor area to a compliant fault free living space (without associated problems) is almost impossible to achieve without totally removing and rebuilding (at a great cost).
It is extremely important for your inspector to inform you in their report, whether the house has been built as a purpose built two storey house or having the lower level converted from a garage-storage area to a habitable area.
An inspector must make a buyer aware of associated problems that are caused by garage conversions. This may prove to be a costly mistake, especially when reselling!
Related information that may be helpful:
Ceiling height requirements for habitable rooms
For independent Building Inspections Brisbane in all suburbs, Qld Home Buyers Inspection Service. qbis.com.au