Why a conversion of a garage to a living area is not a good idea.
Courtesy of Peter Weddell, owner/operator of Qld Home Buyers Inspection Service and Queensland Building Inspection Service, QBIS.
Garage to living area conversion and problems it causes.  
Is it possible?
What problems may develop from a conversion ?
Reasons why High-set houses cannot be effectively converted.
Will it jeopardise my insurance cover ?
Misconception.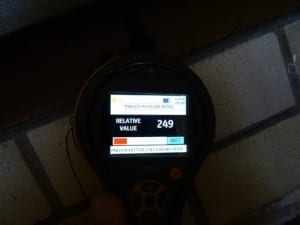 Moisture meter reading is indicating the brick wall is wet in very dry weather conditions. This wall is definitely not suitable for covering with any type of material.
Problems it is most likely to cause:
Covering of single brick walls creates problems by trapping moisture.
Causes rot to concealed framing.
Attracts termites
Mould forming.
Potential health risks to inhabitants of the house.
Affect resale of the house.
Never cover single brick walls with any type of material, otherwise serious problems are most likely to occur!
Reasons high-set houses cannot be

effectively

converted:
In most cases, ceiling height is under the building code requirements.
Due to their different methods of construction.
Seepage occurs through single brick walls
Rising damp occurs from lack of dampcourse barriers.
Water becomes trapped without a rebate to channel it out.
Lack of weep-holes keeps the water trapped causing rot.
Not viable practically.
Conversions cannot be effectively and economically achieved, short of removing and having it built correctly as a habitable area. 
Misconception:
The general public are under the misconception that if the ceiling height is 2.4 metres, then it meets the building code requirements. This plays a very small part in evaluating if an area is suitable for use as a habitable or non-habitable area.
Building code requirements:
Required ceiling height.
Brick walls with a cavity.
Rebate to slab edge to form a trough, for water from seepage through the bricks to exit.
Weep-holes.
Damp-course barriers.
Vapor barrier fitted below the slab before pouring the concrete.
Appropriate reinforced slab and footings.
Garage conversion to living area    
Important notes: 
Buildings used for anything other than their original intended Council approved purpose, may be a cause of concern with your insurance company. If a claim is ever made! Especially if using it as a scource of income.
If in doubt, disclose and check with your insurer.
For independent Building Inspections Brisbane in all suburbs, Qld Home Buyers Inspection Service. qbis.com.au