Common fault with flooding of apartment garages.
What you need to know about flooding of an apartment garage also steps you need to take. QBIS.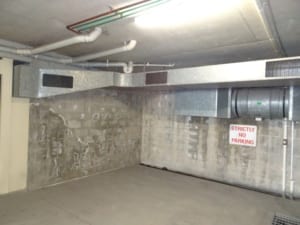 Inadequate drainage to garages of apartment complex.
The sub-floor level garages of this unit building were below the ground levels on all four sides also below the flood level in the area. Removal of water from surface water and seepage was totally reliant upon an electric pump that will not operate in a power outage.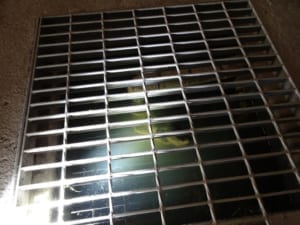 Blocked drain to sub-floor garage area:
As you can see in this photo water below the grate has accumulated and was not draining away. The electric pump (below the water level) was fully submersed and not operating. This is something that needs to be checked and rectified before extended rain periods occur and avoid flooding.
What you need to know before parking your car in a garage below ground.
Electric pumps do not operate in power outages, when needed!
If forewarned of extended rain periods, do not park your car in a garage that is below ground level.
Finding your car submerged in water, before going to work is not a surprise you would want!
To avoid flooding of below ground garages (if possible).
Try not to rely upon an electric pump solely to remove excess water in adverse weather conditions.
Have a backup drainage system (if possible) and/or generator.
If one outside level is lower than the garage area, create fall and fit drains that allow water to escape through that lower level.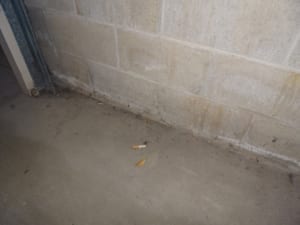 Tell tail sign of flooding to garage area below the ground.
Evidence of debris that has accumulated to the lower block walls indicating recent flooding of water to lower section of the sub-floor garage areas. Often the walls are not pressure cleaned after flooding. This can help in determining evidence of flooding before buying into a unit complex.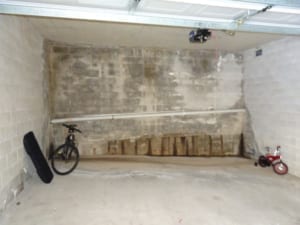 Damage caused by consistent flooding of below ground garage area.
Seepage has also occurred through the block retaining walls. This will cause damage to any items of value you may wish to store in a unit sub-floor garage area that has problems with seepage.
Common causes of flooding and what to look out for.
Nearby creeks or rivers.
Low lying areas, often near park land, ovals and factories.
Inadequate surface drainage around the building.
Retaining walls not drained and water-proofed during construction (common fault).
Back flow of water from existing drains.
Ground levels higher than sub-floor, especially on all sides of the building.
Flood related information that may be helpful.