New retaining wall built with faults.
This faulty new retaining wall was identified in a building inspection report by QBIS. The home owner saved money from the purchase price being reduced considerably. This saved them far more than the report cost.

New retaining block wall without reinforcing.
Close-up showing lack of concrete core filling and reinforcing. There is nothing stopping these retaining walls from moving.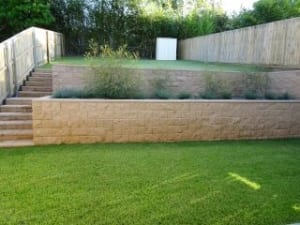 How builder & developers avoid Council approval when constructing retaining walls:
They often terrace the land to avoid the addition cost of constructing a retaining wall over 1 metre in height. This method of construction would not require Council approval also the need to be designed by a structural engineer.

Inadequate retaining wall construction:
These new retaining walls were built without reinforcing and concrete core filling. The blocks have been held together with plastic clips and glue!