Roof faults and associated problems they cause.
What you need to know about faults with a roof and what to do about it. QBIS.
Roof fault of sealant applied to sides of sheeting
Definite indication of roof leaking on a regular basis.
Consistent leaking of roof's is a major concern for causing rot to concealed timber.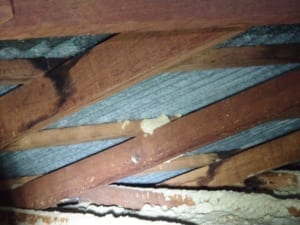 How to determine locations of roof leaking.
Look for:
Stains to timber.
Below rusted roof sheeting.
Buckets placed within the roof.
Water stains to ceiling lining.
Sagging of ceilings.
Sometimes leaking from a roof is impossible to determine unless it is raining at the time.
Rectification required to roof leaking with recommendations
Replace the old iron roof sheeting with zincalume.
Have more securing fitted to the roof structure for tying down.
Fit insulation below the roof sheeting.
Fit ventilation to the roof and eaves.
Avoid using spray-in insulation, it has a tendency to accumulate around electrical fittings which can cause potential fire hazards.
Is roof ventilation worth fitting?
Yes. If fitting roof vents, I would recommend fitting a pipe with a cap on top, rather than a spinning roof vent (these are prone to leaking). Also refer to my post on roof ventilation for more information.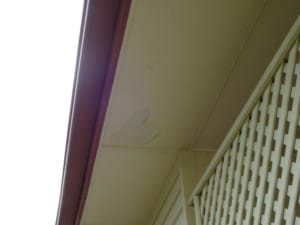 Gov: Home repairs and maintenance
Roof gutters overflowing can cause rot to concealed timber of eaves over the long term, how to avoid.
Fit slots to front of the gutter to allow water to escape to front rather than back.
Have more downpipes fitted.
Important note: If fitting more downpipes, more stormwater pipes are also required to avoid backwash occuring.
For independent Building Inspections Brisbane in all suburbs, Qld Home Buyers Inspection Service. qbis.com.au