Learn how to avoid potential electrical cable dangers occurring within a roof.
Electrical cable danger in a roof, what to do and how to avoid hazards caused by it.QBIS.
Although this fault should never occur, this is a very common potentially dangerous problem that I often encounter, when inspecting new houses.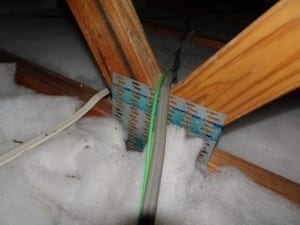 Potential damage to electrical cable danger within roof 
New house with wiring to roof interior fitted over metal gang nails securing's of the roof trusses.
Very dangerous for anyone accessing interior of a roof.
Relocating of cables clear of the securing's would require little effort.
This shows the importance of access by your building inspector to the roof interior!
How to avoid potential dangers when entering areas with electrical cables:
Before gaining access.
Turn off ALL light & power circuits at main power box.
If uncertain,

do not access

roof interior or consult a qualified electrician.
NEVER RELY UPON SAFETY SWITCHES ALONE as they can become faulty!
Do not attempt to rectify any electrical cables yourself.
When having your house built:
Insist the electrician secures all the electrical cables well away from any sharp objects such as securing brackets also roof truss metal gang nail plates. To be on the safe side, have the roof area checked by another electrician to ensure all electrical cables have been safely installed.
Cables to sub-floor areas of old and new houses:
Often cables are draped over sharp corners of brick or block walls or in touch with steel column supports. I have also encountered electrical cables in pools of water below old houses and new extensions. Be aware of these potential dangers so you can have them rectified before they cause hazards.