Learn what the differences are between a 2 storey and high-set house.
Differences between 2 storey & high-set houses. A typical high-set house. QBIS.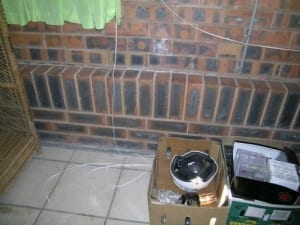 The following photos show indications of seepage and rising damp to single and double brick walls (no cavity) of high-set houses.
These problems are the reasons why high-set houses are not suitable for conversion to habitable areas and the brick walls must not be covered with any type of material.
High-set vs 2 storey house differences.
A purpose built 2 storey house has been designed and constructed to stop seepage and rising damp affecting its inhabitants.
The following items are fitted during construction.
Rebate to the slab edge.
Vapor barrier fitted below the slab.
Damp-course barriers, fitted just below the slab level.
Weep-holes fitted to the lower section of the walls.
Cavity between outer brick and inner wall.
These necessary items cannot be effectively and economically fitted after the building has been constructed.
Some exa

mp

les:
You can clearly see indications of rising damp also lack of weep-holes, therefore the walls are unlikely to have damp-course barriers.
High-set vs 2 storey house. 
Be warned!
Some builders claim this can be overcome with water-proof render applied to exterior of the brick walls.
This may help stop some seepage (for the short term) but will not stop seepage and rising damp!
Never cover the inside of a single brick wall with any type of material otherwise this will trap moisture and cause serious problems.
If your builder disagrees with any of these comments, demand written guarantees!
For independent Building Inspections Brisbane in all suburbs, Qld Home Buyers Inspection Service. qbis.com.au