Concrete slab edge deterioration

.
Deterioration to concrete slab. QBIS.
Heavy pitting has also occured to the slab surface most likely caused by type of soil in the area.
The plastic membrane is not likely to have been wrapped around edge of the slab far enough, within the wall cavity.
This is a problem I often come across, in new buildings.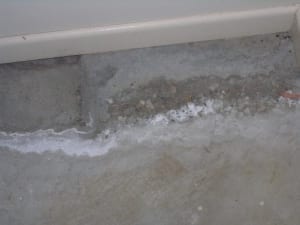 Same problem, different house
Also refer to the downloadable PDF files on my site, for more information.
Some information regarding rising damp that may be of use.
Cornellengineers: Vapour barrier under a concrete slab
South Aust Gov: Membranes below slabs
QBCC Standards & Tolerances Guide
For independent Building Inspections Brisbane in all suburbs, Qld Home Buyers Inspection Service. qbis.com.au