Learn how retaining walls can become a potential danger when using the wrong products in their construction.
Retaining wall movement dangers. These unsuitable retaining walls have moved considerably, needing to be removed and replaced. Due to limited access with machinery, replacing them would be labour intensive and very costly. QBIS.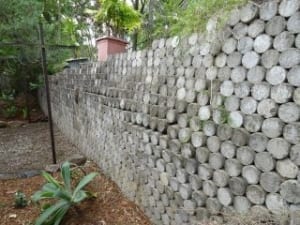 Huge bulge to unsuitable retaining wall from pressure of soil against it.
Large gaps caused by the soil pushing against the loose tubes of concrete. Concrete tubes are not designed for retaining large volumes of soil, certainly not soil levels over 1 metre in height.
This wall could do some serious injury and/or damage when it collapses.
Retaining wall built with material that is way beyond its design to support a large volume of soil.
Loose block walls are suitable for retaining garden beds that are less than 1 metre in height. They are not designed for retaining large volumes of soil.
Always check the manufacturers specifications before using their product to build a retaining wall.
Things you need to know about retaining walls over 1 metre in height:
Council approved.
Engineer designed.
Soil must be tested.
Concrete filled and reinforced (block walls).
Drains fitted to the lower section (to relieve pressure).
Although retaining walls that are less than 1 metre in height don't require the above they must be constructed well enough to avoid movement.
Different forms of retaining walls:
Rock (small and large).

Pre-cut sandstone blocks.

Timber sleepers.

Concrete sleepers.

Besser blocks (loose or reinforced).

Specialised interlocking blocks.

Standard bricks.

Formed concrete (crib-lock).

Gabion cage (rocks within steel reinforcing mesh).
Concrete tubes (suitable for very low walls only, mainly garden beds).
Some of these walls require reinforced strip footings for support, some are independent.
Life expectancy of retaining walls is usually dependent upon the following:
Materials used in their construction.

Differing weather conditions.

Proper drainage.
Reinforcing.

Type of soil.

Slippage and other forces.

Method of construction (reinforced or not)

Height and design of wall.
Supported by footings or not.
Whether they have been built in accordance with manufacturers and/or engineers requirements.
Common concerns with retaining walls and movement

:
Q: Will my house be affected by movement of a nearby retaining wall?
A: Not if the house has been properly constructed.
Q: Who is responsible for maintaining or replacing a retaining wall on a boundary?
A: This would be dependent upon many variables, legal advice would be required for this one.
Dangers of retaining wall movement

:
Whether collapsing of the wall may cause injury or worse to anybody.
Physical damage it may cause to buildings, machinery or cars.
Retaining walls must be checked on a regular basis and properly maintained to ensure a long life.
Brisbane City Council: Retaining Walls