Learn about sagging plasterboard ceilings and potential dangers.
Sagging plasterboard ceilings can be very costly to fix and disrupting to home owners. Here are some examples and recommendations on what to do regarding this potentially dangerous and serious common fault also some reasons as to what may be the cause. QBIS.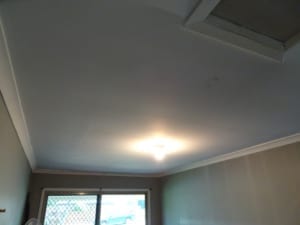 Dangerous:

example of ceiling lining sagging as much as 75mm.
With this degree of sagging, the ceiling could not be effectively resecured with guarantees against further sagging or potential for collapse.
The only things stopping the ceiling from collapsing was the light fittings and perimeter ceiling cornices.
Collapse of a ceiling lining may cause serious injuries to any inhabitants below.
Light fitting stopping potential collapse of ceiling lining.
Look how dangerous this is, where a light fitting, cornices and architrave surrounding access hole to the roof being the only items stopping potential collapse of a ceiling. The ceiling needed to be replaced urgently with disruption to occupants of the house.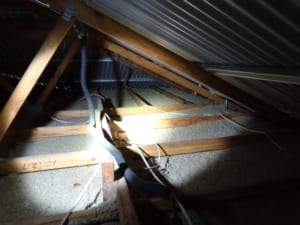 Photo within roof showing sagging ceiling plaster.
Large gaps between the ceiling sheets and bottom Chords of the roof trusses. This shows the degree of ceiling plasterboard sagging. This problem cannot be identified within a roof if the ceilings are covered with plaster. This fault must be checked from interior of the house by an experienced building inspector and/or plasterer.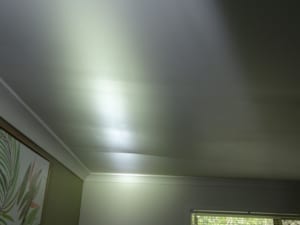 Rectification of sagging plasterboard ceilings
Remove any insulation from above the ceiling (if fitted)
Replace sagging plaster.
Reinstate insulation.
Important tip: Consider having metal ceiling battens fitted to bottom chords of the roof trusses. Over the years I have found this, in most cases, to be more effective in reducing the chances of significant sagging from occuring.
Some potential causes of ceilings sagging: 
Leaking roof.
Improper securing.
Weight of insulation on linings (especially if roof has leaked).
Spacing of roof trusses or ceiling joists.
Dropping of ceiling battens.
Roof frame movement.
Use of incorrect thickness or linings unsuitable for ceilings.
Stored items within a roof.
Damage from tradespeople.
Normal aging.
Sometimes a combination of the listed items.
Worth knowing about ceilings sagging: 
Re-securing of the ceiling sheets may not be sufficient in some cases.
Replacement may have to be considered, where they are sagging beyond repair and cannot be effectively re-secured.
Degree of sagging must be determined and allowed for in quotes given by trades-people that are willing to guarantee their work.