Dangerous sagging ceiling lining,

in the Norman Park area, an Eastern suburb of Brisbane
by Peter Weddell owner/operator of Qld Home Buyers Inspection Service.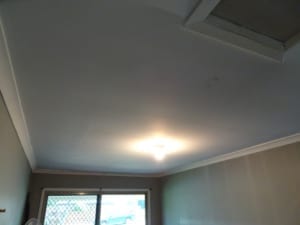 Considerable sagging to ceilings of two bedrooms and two living areas of this recently inspected house, as much as 75 mm.
This degree of sagging would not allow the ceiling linings to be effectively re-secured without further sagging occurring.
The only things stopping the ceiling from collapsing were the light fittings and perimeter ceiling cornices.
Collapse of a ceiling lining may cause serious injuries to any inhabitants below.
More sagging of ceiling lining.
Light fitting and architrave surrounding access hole to the roof interior are the only things stopping potential collapse of this ceiling.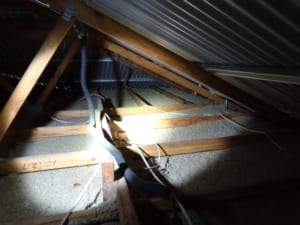 Large gaps between the ceiling lining and bottom Chords of the roof trusses, this shows the degree of sagging.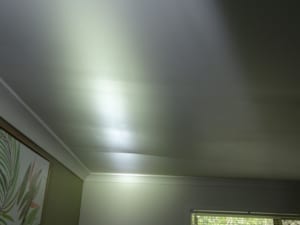 Rectification would require removing and replacing the ceiling linings also the insulation, messy and expensive !
Important notes:

 
Re-securing of the ceiling linings may not be sufficient in some cases.
Replacement may have to be considered, where they cannot be effectively re-secured.
This must be determined and allowed for in quotes given by trades people that are willing to guarantee their work.
Always ask the tradesperson if they can effectively resecure the ceiling linings with guarantees against further sagging. If the awswer is no, then requst quotes on having the linings replaced, where necessary.
For independent Building Inspections Brisbane in all suburbs, Qld Home Buyers Inspection Service. qbis.com.au