Danger of a non approved structure,
Dangerous non approved structure. This potentially dangerous non approved structure may not be covered by your insurer for any damage caused from collapse or being blown away. QBIS.
Important ti

ps w

hen dealing with non approved structures:
Always check with your insurer for cover regarding structures that you are aware of that have been built without Council approval.
It is highly recommended Council approvals be obtained on all structures.
These tips are likely to help when reselling the property.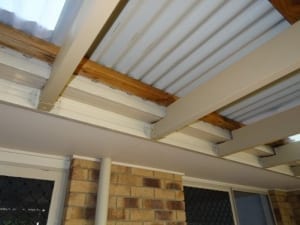 Insufficient securing where attached to the house.
Dangerous non approved structure. 
Important notes:
Must have appropriate securing through the metal fascia boards to roof structure of the house.
Metal fascia boards are secured with brackets and are not designed for supporting any weight apart from the gutters.
This method of construction can allow collapsing to occur which could seriously injure or cause fatality to anyone below.
In most cases this can be easily rectified, unfortunately at a cost and some inconvenience.
Do not be complacent about illegal structures, otherwise it may cost you dearly!
Some information that may be of use.
Tips on Building and planning approval
For independent Building Inspections Brisbane in all suburbs, Qld Home Buyers Inspection Service. qbis.com.au