What defects make verandas and decks potentially dangerous.
Learn how decks and verandas with dangerous defects can be dangerous if not checked and maintained on a regular basis.  QBIS.
Here are some examples of Queenslander style houses with veranda's built using a similar method of construction to a deck that collapsed in recent years, in Ascot, a eastern suburb of Brisbane. With some tips on what to look for and how to maintain.

Unsafe construction of a veranda. 
The floor joists are checked into the perimeter bearer and secured with nails. This will allow the supporting timber to separate and potentially collapse, under load.
How to rectify an unsafe veranda.
Have an additional bearer fitted below junctions of the joists and bearer.
This would give far better long term support to the structure as it would not be reliant on brackets and securings that will rust and give way, eventually from exposure to the weather.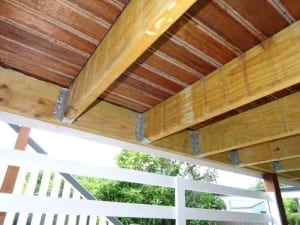 A recently constructed unsafe veranda.
A recently built veranda with the same method of construction, except for metal steel saddles fitted below the floor joists for support. Not a method of support that I would recommend. The joist saddles and nails will rust over time and lose support.
A far better method of construction would be to extend the floor joists over top of the bearer for full support, this is a method most commonly used.
The problem with this method would only be if more head clearance is required below the structure.
Important signs to look for to avoid dangerous defects with decks and verandas.
Post and/or columns for rot or rust to their bases.
Check post bracket supports for rusting.
Stairs and landings for rot
Deck floor for rot.
Structure for rot.
All securings for deterioration, rust also detaching.
Railing securings and rotting of timber railing.
Bracing condition and securings (this is dependent on height of the structure).
Useful tips on prolonging the life of decks and veranda's.
Consider constructing a roof above a deck, if it is exposed. This will not only give it protection but makes a deck more likely to be used in differing weather conditions.
Veranda's & decks must be periodically checked and maintained.
Railing securings must be checked on a regular basis and be resecured when necessary.
Avoid using softwood in construction of decks, veranda's, stairs and railings.
Bear in mind that softwood (treated and untreated) will rot sooner than treated hardwood.
Use treated hardwood where at all possible.
Keep soil away from any timber supports to avoid rot and possible termite access points.
Soil must also be clear of any steel supports to avoid rust occuring around their bases.
Veranda and deck related material that may assist you.