Serious damage movement of paving can cause to plumbing.
Damage to plumbing from paving movement. Although movement of paving around buildings and swimming pools is quite a common problem, it must not be understated!  QBIS
Some causes of paving to move:
After the footings have been constructed the soil is rarely compacted before the paving is laid.
Type of soil supporting the paving being reactive to water.
Leaking from damaged plumbing pipes.
In most cases paving movement is acceptable but in others it can develop into a safety issue or cause damage to other items.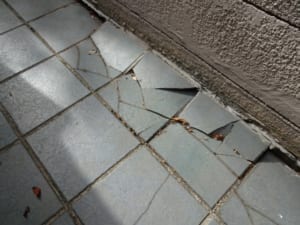 Unacceptable degree of paving

movem

ent:
This shows the significance of movement causing the tiles to crack and considerable differences in levels. This degree of movement can cause potential safety hazards and a liabilty of injury therefore must be rectified, ASAP.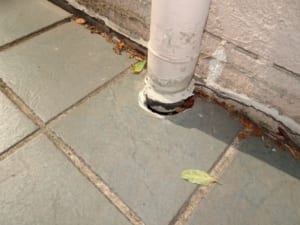 Clearances required around all plumbing pipes:
This down-pipe is damaged below the surface allowing leaking of water below and potentially cause expensive footing movement. Clearances are required to allow for movent of paving to occur without causing damage to pipes incorporated within them. This can help avoid costly rectification.
When does movement of paving require rectification?
If it has moved to a degree that it becomes a safety issue and can cause injury from tripping.
When movement causes damage to plumbing within it.
Where movement may place pressure upon a structure causing it also to move, such as a retaining wall.
Implications of damage to plumbing from paving movement. 
These problems may seem to be minor and considered by inexperienced inspectors not worthy of including in a building inspection report.
Some types of tiles laid over paving can also present a dangerous hazard, when wet.
Uneven levels of paving can be a potential safety hazard.
Paving causing damage and leaking plumbing pipes can also cause movement of the foundations.