Home owner exposed trying to cover-up termite damage.
Exposing home owner/seller coverup of termite damage to roof. QBIS.
These unscrupulous home owners were exposed by Peter weddell in his inspection where the sellers attempted to cover-up termite damage to the roof frame. When exposed they claimed the damaged timber had been replaced by a qualified builder!
Termite damage to roof frame, cover-up:
Termite damage within this roof required physical access by the inspector. The damage could not be identified from the roof access hole. Other areas were covered with insulation by the seller to try and block access by building inspector.
Inspectors not gaining access to the roof interior can prove to be very costly!
Many building and pest control inspectors will not access the roof interior where insulation has been fitted. Some do not realize that insulation is often fitted to hide termite damaged timber, this case is a classic example.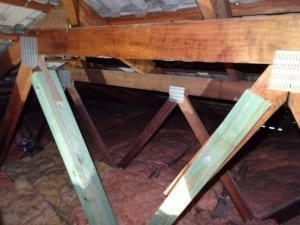 How to ensure your inspector does not miss this costly problem:
Employ a competent pest control inspector that is prepared to access the roof void, regardless of whether insulation has been fitted.
Use an experienced pest inspector that operates a pest control business, not a builder, otherwise you will live to regret it!